WWE Series 1 Ooshies - Pencil Toppers 4 pack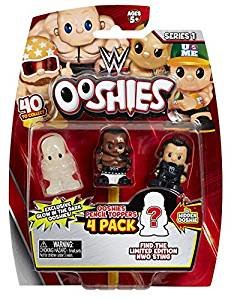 WWE Series 1 Ooshies - Pencil Toppers 4 pack
Your favourite wrestling superstars have been Ooshed! Featuring the likeness of timeless WWE characters these Ooshies are soft and squeezable mini figures that double up as pencil toppers. Harness the power of your favourite character and take it into class for the perfect addition to your stationery collection or use for great party favours, pocket money toys or even collectables. With over 40 to collect look out for special edition glow in the dark, and limited edition Ooshies.
2 x WWE themed Ooshies
1 x Exclusive glow in the dark Ooshie
1 x Hidden Ooshie
One pack supplied. Colours and styles may vary.
Reviews
Featured Products