Fred's Mystery Kids Subscription Box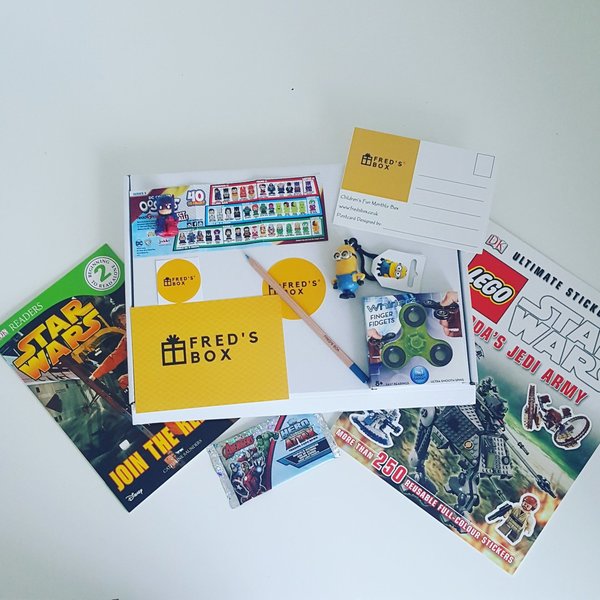 Fred's Mystery Kids Subscription Box
If you would like to order this as a monthly rolling children's subscription box please click here. You can cancel this at any time.

This new kids mystery monthly subscription box is filled with at least 8 awesome items. This will normally fit through your letter box so you don't need to be in to receive it, however, if we receive some larger items we might send this in a larger box. This is suitable for kids between the ages of 3 and 12 years old.
Every month will be different, but the kids fun subscription box will always include:
Age Appropriate Reading Book

Fred's Box Pencil

Design your own Postcards

Fred's Box sticker

For children aged between 3 and 5 years old your kids subscription boxes will always also include:
Arts and Crafts Goodies


Plus between 2 and 5 mystery gifts
For children over the age of 5 years old your monthly subscription box will always also include:
Plus between 2 and 5 mystery gifts



The monthly kids subscription boxes are fairly gender neutral, but we have added a girl and a boy choice, this is purely for the mystery gifts (in a girl box for example there could be a hair clip). If you would like a mix of jewellery and hair products along with superheroes and Star Wars that is absolutely fine, please just message us if you have an exact requirement.
There is an option to order a twins box or a box for 2 children, we call this the Mojo Box, please visit here.
The mystery subscription box for children under the age of 5 will only include products appropriate and recommended for the age range, and will not include fidget spinners or Ooshies.
Most Fred's Boxes fit through the letterbox so you never have to wait in for it, although if we source larger goodies it might be sent in a larger box.
If you order here you will receive only one box as this is not on a rolling monthly subscription, if you would like to order a monthly subscription box please order here. This is a Paypal monthly subscription and you can cancel it at anytime.
This is a new kids monthly subscription box based in the UK aimed at children over the age of 3 years old.
What do our customers think?
"This is definitely a great box for kids who love all those little pocket money toys that can be traded between friends. I like how it included a variety of items which meant that Thomas was guaranteed to find something he would like. In terms of value for money, I did a rough calculation and you do seem to get a lot for your pennies in the box. The box received 'two thumbs up' from Thomas, which, in our house is the ultimate seal of approval" Kimberley
"I was very impressed at how well suited it was to Pierre's age and interests, but that is the joy of Fred's Box - they tailor it to your child's profile, taking into account their age, sex, and reading level." Cheryl
Reviews
Featured Products